Jetfuel Agency & Perfect Bar
A Healthy Return On Ad Spend: How Data-Driven Marketing Increase Sales
[row]
[col md_width="7″]
Jeff Perkel is no stranger to the "nuttier" side of B2C sales, with a decade of experience growing prominent health food brands. As the Director of Digital Strategy and eCommerce with Perfect Bar, he is helping this family owned business sprout into larger markets.
PerfectBar.com
[/col]
[col md_width="5″]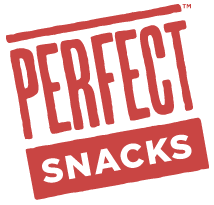 Check out Perfect Bar for a healthy snack.
[/col]
[/row]
[row]
[col md_width="12″]
Executive Summary
Founded by Dr. Bud Keith, Perfect Bar started as a simple and healthy kitchen treat. This delicious home recipe blossomed from a family run operation in 2005 into a national brand with major retail partnerships across the US. Jeff's decade of experience in marketing healthy foods helped him quickly identify key opportunities in Perfect Bar's marketing after coming onboard. He turned to JetFuel.agency for a digital advertising plan that would help refine Perfect Bar's targeted market and greatly increase ROAS (return on ad spend).
[/col]
[/row]
[row]
[col md_width="6″]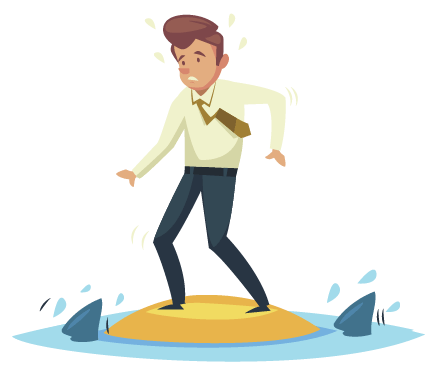 Finding the perfect marketing strategy is stressful. Let us make it easier.
[/col]
[col md_width="6″]
Challenges
"We were pouring money into a hole and simply not getting measurable [advertising] results."
One of Jeff's core strengths is a keen eye on analytics and data. The first agency Perfect Bar worked with couldn't answer his questions about why certain campaign actions were generating certain results (or, in dollars were spent).
[/col]
[col md_width="12″]
Jeff's primary goal for Perfect Bar was to create highly scalable advertising outcomes, so this lack of precision in charting data for growth created a problem. It was obvious that deeper strategic planning was required to create replicable standards and best practices for campaign success. With each day, the brand was suffering an untold loss of potential revenue and market traction.
"The value equation with our previous agency was a little bit off…"
There was a significant gap between what Perfect Bar was paying for and the measurable results they were presented. While the brand was expanding their product line, digital marketing simply wasn't keeping up. Jeff opened up his search for a fresh team and specifically sought referrals with a track record of rigorous data transparency and tremendous ROI impact.
"Our problem was, there was no good read on the efficacy of our ad spend."
[/col]
[/row]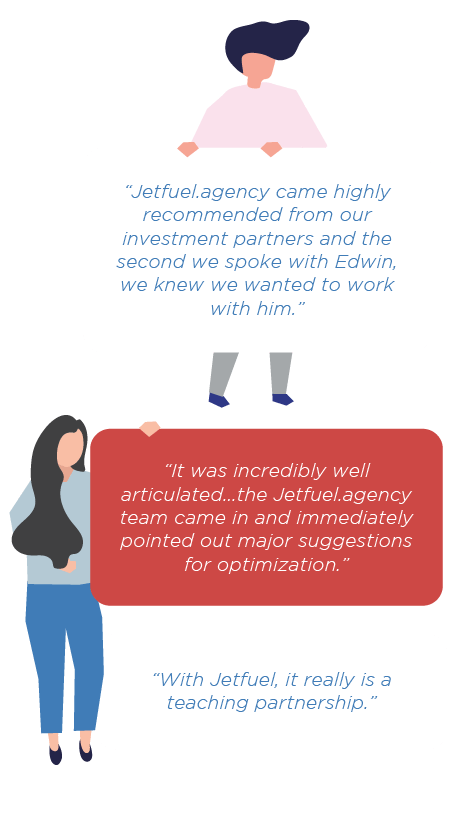 See what Perfect Bar has to say about us.
How

Jet

Fuel

.AGENCY

Helped
From their first meeting, Jetfuel.agency began crafting a marketing strategy based on making all aspects of Perfect Bar's long term profitability stronger. Jetfuel.agency wasn't interested in simply throwing money at Jeff's strategic marketing problems. Creating infrastructure for future growth while developing comprehensive solutions for the now was what we began to collaborate with Perfect Bar from the first day of the campaign.
For all clients, the first step Jetfuel.agency takes is to pinpoint exactly where to optimize and implements research-based procedures. This ensures that every campaign has a scalable, data driven marketing blueprint to success with the client's unique customer base.
From ground level changes with campaign creative and metrics reporting structure to high level strategic impact planning, the solutions that Jetfuel.agency proposed to Jeff were explained down to the smallest detail.
Jetfuel.agency carefully connected each action to Perfect Bar's overall growth priorities. We also provided clients with a soundboard for client ideas on positioning and brand rollout; from brainstorming to analysis of trends.
[row]
[col md_width="6″]
Results, Returns on Investments and Future Plans
"Every cent we spend with Jetfuel.agency is tracked and measured and optimized."
The first quarter of the campaign was focused on digital and procedural house cleaning to dramatically increase sales for the existing campaigns. From there, Jetfuel.agency built a framework to harness the power of Perfect Bar's existing campaign data and turn the information into sustainable processes. According to Jeff, once the team was prepared to "step on the gas with ad spend" the performance difference was noticeable within weeks.
• 515% increase in top line revenue within 7 months
• ROAS increase of 500%
There was an improvement of 500% return on ad spend and Perfect Bar witnessed accelerated market growth with JetFuel.agency's help.
"Having them continue to help us enact best practices is very valuable as things are changing so rapidly in their [online marketing] space."
The enhanced digital footprint that we created for Perfect Bar equips the brand to stay on trend with top consumer goods companies. Jeff considers JetFuel.agency a partner and guide in navigating growth with data-driven precision.
"Having their guidance is kind of our canary in a coal mine. [JetFuel.agency] is helping us quickly test and scale what works, and kill what doesn't. This partnership gives us a competitive edge going forward."
[/col]
[col md_width="6″]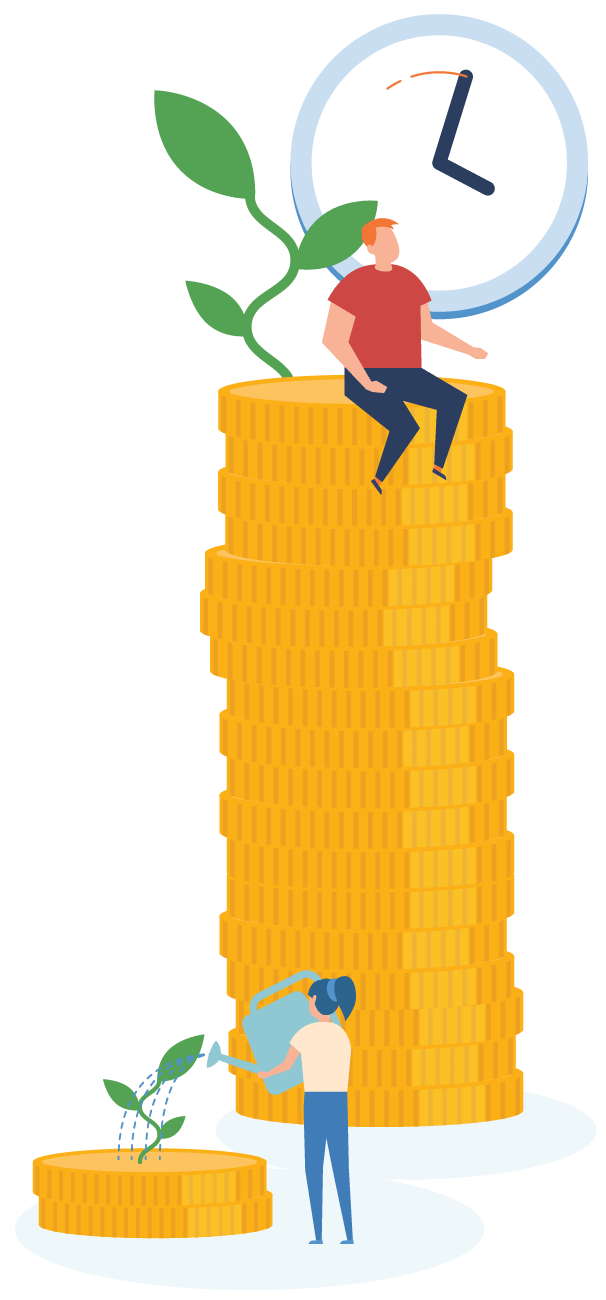 It takes time and some help from marketing experts to grow your business.
[/col]
[/row]